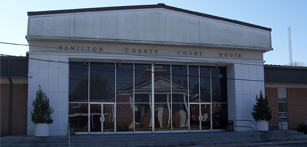 207 First Street N.E.
Jasper, FL 32052-6669
Hamilton County was created in 1827 from portions of Jefferson County. It was named for Alexander Hamilton, first U.S. Secretary of the Treasury. Hamilton County is located in North Central Florida, with Georgia forming its northern border. Its county seat is Jasper. The county (often called a peninsula within a peninsula) is separated from the rest of Florida by the Withlacoochee River on the west and the beautiful Suwannee River to the east and south. In the middle of the county is the fascinating Alapaha River, called the "River of Sand," which disappears underground during certain parts of the year leaving a dry, sandy riverbed. The county has a total area of 519 square miles, of which 514 square miles is land and 5.3 square miles (1.0%) is water.
Judicial Assignments for Hamilton County